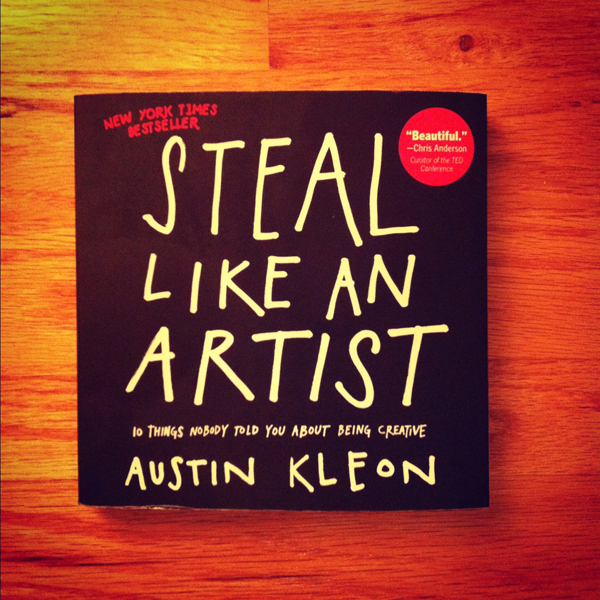 I just finished reading Steal Like an Artist by Austin Kleon and I have to say that it's one of the best books I've read in a long time.
It's full of ten fantastic tips to spark your creativity. I enjoyed it so much that I literally wrote out every major lesson that was stated. I did this to be an active and not passive reader. By rewriting what I had just read, I was able to reinforce the message and allow it to settle into my subconscious.
Every lesson is valuable, but I'll list those that really hit home for me.
1. Steal like an artist.
There is no such thing as an original idea (peep the video I posted on that here). All creative work came on what was built before. It's all about putting your own spin and interpretation on what you've seen. Remember that bad artists copy, good artists steal.
2. Don't wait until you know who you are to get started. 
I don't think we ever truly know who we are. The thing is to just start doing whatever it is that interests you. I actually think that's half the battle. A lot of us don't start these things because we're afraid of failure. But what is failure anyhow? It's better to have tried something than be filled with with the "coulda/woulda" feelings of regret later on.  Decide who/what you want to be and then take the steps to become it.
5. Side projects and hobbies are important.
This blog was my hobby to get my mind off of work and actively involved in looking and sharing what I believe to be good design and art. Now that I'm pursuing design as a profession I'm looking to get back into learning how to play the guitar as another way to channel my creative energy.
7. Geography is no longer our master. 
I've met some of the coolest people online. Get a Twitter account. Start a blog. There's a whole world filled with awesome like-minded people like yourself. Go find them. Connect, build and collaborate. We are no longer constrained by physical proximity.
9. Be boring. It's the only way to get work done.
Yes, you read right. Be boring. That might mean not going to that free Little Dragon concert in Prospect Park because you need to make tweaks to your portfolio (I'm still sore over this experience last Friday) or coming straight home after work to work on a freelance project instead of grabbing drinks with friends. It takes a lot of energy, focus and dedication to be good at your craft. Making sure you set aside some down time to work on things. It's really important.
Check out the book on Amazon here. Happy reading!